About me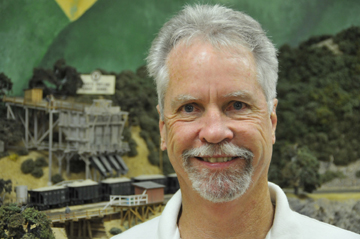 MY NAME IS JACK BURGESS AND I HAVE BEEN INTERESTED in building models as long as I can remember. A Christmas HO train set inspired the start of a couple of layouts in my youth, but neither got much beyond the benchwork. I took up the hobby again as an adult in 1965 and built four layouts. The last one prior to my current layout was a "practice layout" which let me improve my track-laying and scenery construction skills before embarking on my multi-level Yosemite Valley Railroad layout in 1980. This layout was finished in 2011, 31 years after I began construction.
My wife, Jacque, shares my interest in trains. Her G scale garden railroad was featured in the September 1995 issue of Model Railroader magazine although it has since been removed.
Together we have three children along with four granddaughters, twin grandsons, and one great-granddaugher. I worked as a civil engineer for the City of Newark, California for 40 years before retiring in 2004. I've been active in the National Model Railroad Association since the mid-1980s and became NMRA Master Model Railroader (MMR) #136 in 1988. I am currently the Achievement Chairman for the Pacific Coast Division of the NMRA.
My interest in the Yosemite Valley Railroad began in 1967 and I began seriously researching the railroad in the early 1970s. By the mid-1970s, I was contacting railfans who had photographed the Yosemite Valley Railroad when it was still in operation and either purchasing prints of their YV photos or borrowing their negatives and making prints for my growing collection of photographs. I presently have nearly 4,000 historic photos of the YV.
That collection of photos and research information lead me to write a well-received book on the Yosemite Valley Railroad entitled Trains to Yosemite. It was published by Signature Press in 2005 but sold out in 2011. The original price was $65.00. Used copies are available on Amazon.
Articles, Videos, and YouTube
I BEGAN WRITING MAGAZINE ARTICLES in the early 1970s and had my first major article and cover photo in the October 1975 issue of Railroad Model Craftsman. Some older modelers might remember that cover: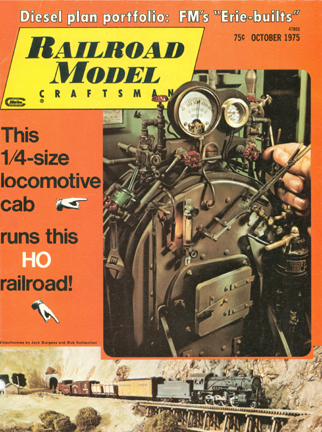 The cover article was about a scratchbuilt, one-fourth-size reproduction of the steam cab of a real locomotive. I used it to operate trains on my third layout, an around-three-sides-of-the-garage layout based somewhat on the YV. All of the controls on the cab (which was based on a narrow gauge 2-4-2) worked just like the real thing and allowed me to use the Johnson bar (direction and acceleration rate), throttle (speed), brakes (braking rate), and even the injector to keep the correct water level in the "boiler" as shown in the working water glass. It was fun to operate trains with it but it couldn't be used with the multi-level, walk-around layout which replaced that prior layout. I still have the cab on display near the door to the layout room.
Since then, I have continued to share modeling tips and information with other modelers through numerous model railroad magazines including Model Railroader, Great Railroad Models, Model Railroad Planning, Railroad Model Craftsman, Narrow Gauge and Short line Gazette, and most recently, the free online Model Railroad Hobbyist.
I written over 240 magazine articles on a variety of subjects. While a number of them are articles about some aspect of my own layout, others are "layout visits" to other layouts and some are product reviews. The ones I enjoy writing the most describe new techniques or easier ways of doing things. Adobe Acrobat copies of some of those articles are listed below:
All of the articles that I have written for the Model Railroad Hobbyist are available online for free and can also be read online. Some of those articles include:
Getting Real
YouTube Videos
John Abatecola, owner of TSG Multimedia, produced 100s of YouTube videos including a great video of my layout and 27 other videos. Here is a link to all of the videos that I have done with John Abatecola.
Trains to Yosemite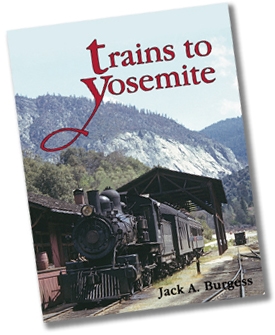 My book on the Yosemite Valley Railroad, Trains to Yosemite, was published in late 2004. The 364-page book has over 400 photos, including 43 spectacular color photos taken by YV fan Al Rose in the early 1940s while the railroad was still in operation. The fascinating history of the railroad is covered, together with detailed descriptions of the towns and places along the route, and information on equipment and operations. There are 19 detailed maps of the route and of the railroad facilities at Merced, the Portland Cement plant, Snelling, Merced Falls, Bagby, Incline, Moss Canyon, and El Portal. There are also complete equipment rosters and 26 scale drawings. The narrative is further highlighted with numerous anecdotes and stories from railroaders who worked on the railroad and who describe, in their own words, the unrivaled adventure of working for the Yosemite Valley Railroad.
My book sold out in March 2011 and I no longer have copies for sale. Amazon and eBay occasionally have used copies for sale although prices are 2-3 times the original selling price of $65.00.