My Approach to Prototype Model Railroading
MODEL RAILROADING IS A FASCINATING HOBBY. The construction of a layout can involve carpentry, electrical work, model building, scenery construction, historical research, electronics, and even railfanning and photographing real trains. If you are not already a model railroader, one of the best ways to get more information on the hobby is from the monthly magazines. Model Railroader and Railroad Model Craftsman magazines are good sources of general information. There is also a free, online magazine called Model Railroad Hobbyist or simply MRH.
Getting From Back Then to Now
While many model railroaders started the hobby with the traditional Lionel circle of track, I started building models (airplanes, tanks, ships, and cars) fairly young. I was around 12 years old when I received an Athearn train set for Christmas. I soon had the track set up on a piece of plywood and started building scenery from paper grocery bags and paste. But, frustration set in when I couldn't afford turnouts. The track I needed was also beyond the limits of my allowance and part-time job and I eventually gave up on model railroading and returned to building plastic models.
For reasons I don't recall, I decided to get back into model railroading in 1965. I was married at the time and had a fairly good job, but funds for a hobby were very limited. But I found a track plan in Model Railroader magazine for a very small switchback layout that was probably less than 5 feet long and a couple feet wide. Hoping to save money, I purchased a turnout "kit" rather than a prefab turnout with an insulated frog. The "kit" was certainly cheaper but, after spending hours installing it on handlaid ties and "tweaking" it, I realized that I could handlay a turnout from scratch faster. That revelation provided a solution to getting back into the hobby with limited funds. Rather than take an approach which provided the fastest path to a finished layout, I could spend my limited funds on rail, spikes, and ties (rather than prefab track and turnouts) and spend more time on the hobby. Thus, my expenditures per hour of hobby time were quite low. Likewise, I could scratchbuild the structures and cars I wanted rather than buying kits, further trading enjoyment with limited funds over immediate gratification.
Starting with Freelance Modeling
I followed the prevalent approach of the time by electing to model a freelance (fictional) railroad. This approach let me ignore general railroad practices and do whatever I wanted. It was about this time that I met a much more experienced modeler who was scratchbuilding box cars after photographing and measuring real box cars in the nearby railroad yards. After studying some of his models, I came home and removed the trucks and couplers from my pitiful efforts at scratchbuilding freight cars and threw them in the trashcan, vowing to challenge myself to build better freight cars from then on.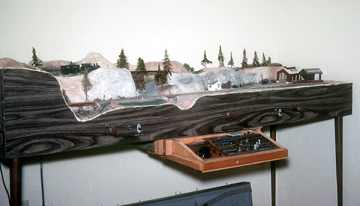 This is my first layout. By the time I had reached this level of completion, it was time to tear it down. It was about this time that I also realized that modeling a specific prototype railroad could be both more challenging and more fun than freelancing. I also discovered that more satisfaction could be derived from my modeling if I could look at a photo of the prototype and my model of it and feel comfortable that I did my best to duplicate it to scale.
Picking a Prototype to Model
But what railroad to model? I fully expected to not only spend a lifetime modeling it but also to spend a lifetime researching it. My list of criteria was short. First, the selected prototype railroad had to be in California where I live. I felt that, if you are going to model a specific prototype, you also need to accurately model the scenery and, to do that, you need to be able to visit the locations you are modeling. At that time in my life, I couldn't see how I could ever afford to visit another state to do that. Secondly, there needed to be an available book on that prototype with a lot of photos. Since I planned to scratchbuild the structures needed for the layout and the equipment owned by the railroad, I would need a lot of photos. Also, I didn't want to pick a prototype which was popular with manufacturers. Do to so would mean continual disappointments when new brass locomotives were released every few months without the modeling budget to purchase them. So, I wanted to select a prototype which was "never" going to be popular enough to warrant attention from the brass importers.
These criteria led me to consider a couple of California short lines including the Sierra Railroad and the Yosemite Valley Railroad. I finally settled on the Yosemite Valley Railroad primarily due to Hank Johnston's book on the line, Railroads to Yosemite Valley. It simply had more photos than the book on the Sierra RR.
The small switchback layout I built was replaced by a "switching puzzle" layout built on a hollow-core door with removable legs so that the door could be stored behind the bedroom door when not set up for operation. A couple of years later, we moved to a rented house with a two-car garage and that switching puzzle became one of the main yards in a new, around-three-sides-of-the-garage layout generally based on the Yosemite Valley Railroad. The primary goal for that layout was to experiment with different construction techniques such as grid and L-girder benchwork, spline and plywood roadbed and even different scenery techniques. But even more importantly, I needed to master everything from wiring and scenery to hand-laying track and building structures before starting on a larger layout. Eight years later, I felt that I had the experience needed to start a real layout based on the YV.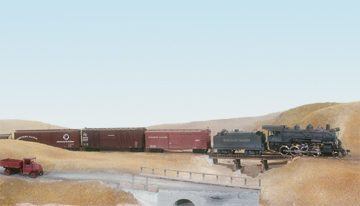 Designing a Multi-level Layout
In the years I worked on my "trial" layout, there was a growing interest in the magazines about multi-level layouts. But, as I recall, while there were published plans for multi-level layouts, there were few if any articles showing actual multi-deck layouts, either completed or even under construction.
In order to design a multi-level layout, I first needed to determine an acceptable design standard for the separation between the decks. A large separation is desirable from both a visual and an operational viewpoint. More separation would mean better visibility of the lower level and easier access to uncouple cars on that level. But a large separation means either more track to get from one level to the next (more turns in a helix for example) or steeper grades. In addition, more separation between levels means that either the lower level might need to be lower than desired to keep the upper level viewable by both visitors and operators or the upper too high to be seen without standing on a step. On the other hand, less separation between decks can result in not being able to see to the rear of the lower level.
To establish a criteria or goal for the separation between the decks, I ripped out a yard on my "trial" layout and hung it from the rafters over another yard. This let me visualize how the two levels might look on my new layout. I finally settled on a general design goal of 15" between the top of rails on the lower level and the top of rails on the upper level. I then came up with a way to make the upper level as "thin" as possible to avoid obstructing views of the lower level. Finally, I discarded the idea that front of the upper level needed to line up with the front of the lower level. Instead, the width of the each level varied as needed to accommodate the track plan. If the lower level has a major yard (such as Merced Falls), then the upper level can be "pushed" back to open up views to the lower level. If the upper level has what will be a busy passing siding (such as Bagby), the upper level can be wider than the lower level below it. (A copy of an article I wrote for Railroad Model Craftsman on the design criteria for multi-deck layouts can be downloaded here.)
I have also done a YouTube video about multi-level layout design which can be view here.
All in all, the resulting layout turned out very well. It would have been nice to have a larger aisle adjacent to the Merced Falls yard (things get crowded near the end of operating sessions when a three-way meet is scheduled to occur here) but that would have meant compromises somewhere else. When the layout was designed, the area now occupied by El Portal and the wide aisle in front of it was taken up by my workshop. After our kids moved out, my wife suggested that I take over one of the then-empty bedrooms for my shop. Not only did that give me a shop with heat in the winter and air conditioning in the summer (the layout and the previous shop are in an non-insulated, double-car garage) but it let me expand El Portal 20-fold. If I had the entire garage for the layout from the beginning (without needing to set aside space for a workshop), I could have incorporated larger aisles.
I started construction of the new layout as soon as I was satisfied with my layout plan. That was in early 1980. The basic benchwork and roadbed was completed within a few months but handlaying the track wasn't completed until 8 years later. In the meanwhile, I built a few transistorized throttles and installed a progressive cab control system (replaced by a DCC system around 1994). I also built structures and freight cars, painted locomotives, and completed most of the scenery while finishing the track. I also incorporated various sound effects around the layout. The layout was finally "finished" in June 2011, 31 years after starting it.
Many modelers emphatically state that no layout is ever finished since there are always more structures to add or details to install or changes to make to the trackwork. Since I designed my yards based on the prototype, I've never needed to change any trackwork once it was installed. I have no more structures to build or install and when I get to the point of installing details and figures, I figure out what I need and complete that task before going on to something else. I still have a lot of resin freight cars I'm planning to build even though I have enough freight cars on the layout to hold operating sessions. However, I like to swap out freight cars which have been on the layout for years with new ones.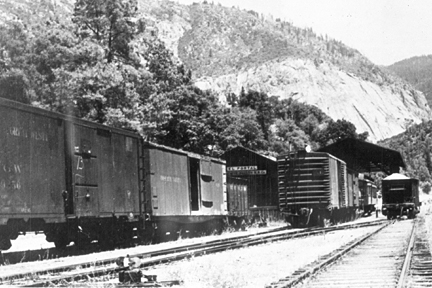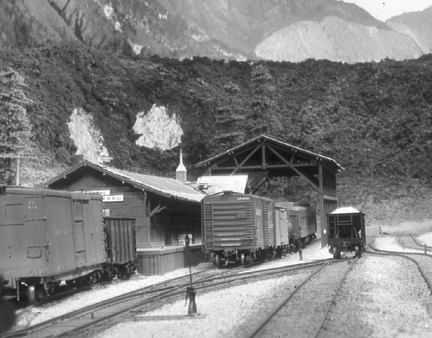 As far as "home" equipment, my ultimate goal is to construct models of all of the rolling stock operated by the Yosemite Valley Railroad in the time period that I model with the exception of the 175 log cars. (I limited myself to building only 10 of those log cars.) That fleet includes 9 flat cars, 11 boxcars, 3 stock cars, 6 ballast cars, 51 hopper cars, 11 maintenance of way cars, 4 cabooses, and 7 passenger cars. I currently (February 2023) need to build only two passenger cars to finish the entire roster except for the log cars and hopper cars.
Era and a Sense of Time
Many modelers do not try to model a particular year, preferring instead to just select an era (such as the early 1960s or the "transition era"). However, I prefer the challenge of modeling a particular year and month which, in my case, is August 1939.
I selected the year 1939 to model based on several factors. First, I wanted to model RPO 107 which was acquired by the railroad in 1937. (This was due to the availability of an imported brass model of the RPO, the only YV model available at the time.) I also didn't want to model early 1942 by which time vacation travel to Yosemite National Park had been curtailed due to World War II. Those constraints narrowed my choices to 1938, 1939, 1940, or early 1941. Avoiding the start of WWII in Europe and wanting to move out of the Great Depression as much as possible resulted in selection of 1939 as my modeling "year". Since Pullman service to Yosemite was run only between Memorial Day and Labor Day, I selected August from the possible months of June, July, and August; August is traditionally the peak vacation month.
By selecting a particular year to model, many decisions become simple choices. Trying to decide whether or not to purchase that new freight car kit? The question is simple, "Was it in service in 1939 and might it have seen service on the YV?" How about that new resin automobile or truck detail part? If you are modeling 1939, it has to be a model of an automobile or truck built prior to 1939.
By selecting a particular month, I also know which seasonal changes to duplicate (yellow/summer grass or green/spring grass) and, more specifically, what traffic patterns to model, such as summer Pullman service. I also know which month should be showing on the calendar in the YV dispatcher office.
Enjoyment and Challenges
My approach to the hobby is different than many modelers although more and more modelers are discovering, as I have, the rewards of modeling a specific prototype rather creating a generic, freelanced railroad. I love the challenge of researching my prototype and not only finding new photos but learning "why" the railroad did something a particular way. I also love the challenge of scratchbuilding models as accurately as possible, even if someone else can't see the level of detail incorporated into a model. All in all, I have found great pleasure in duplicating the Yosemite Valley Railroad as closely as I can.