Modeling the YV
WHEN I FIRST BEGAN MODELING THE YOSEMITE VALLEY RAILROAD IN 1967, the only available YV scale model was an HO scale brass model of Railway Post Office (RPO) car imported by Ken Kidder. I therefore fully expected to eventually scratchbuild all of the YV models that I would ultimately want including not only the locomotives but cabooses and freight cars and passenger cars. However, over the years, various YV engines, passenger cars, freight cars, and decals have been released, making modeling the Yosemite Valley Railroad much easier. The following is a summary of available locomotives and freight cars, structures, parts, books, and videos for modeling the YV in HO scale.
Locomotives
The prototype YVRR had ten locomotives over its lifetime. Their first engine, 4-4-0 No. 1 (renumbered 20), was purchased second-hand in 1905. An ex-PRR/NP 2-8-0 No. 11 (renumbered 26) was also purchased second-hand in 1905. Another 4-4-0 (No. 21) was purchased second-hand in 1906.
All of the other engines were purchased new and lasted until the end of the railroad in 1945. A pair of Alco 4-4-0s (No. 22 and No. 23) were purchased in 1907. Four Balwin 2-6-0s (Nos. 25, 27, 28, and 29) and Alco 2-6-0 No. 26 were purchased between 1913 and 1925. The 2-6-0s were generally used in freight service and summer passenger service (when Pullmans were run), while the 4-4-0s were generally used for the winter passenger trains with the RPO and Observation car.
Modeling the 2-6-0s
Modeling the 2-6-0s is easy but can be relatively expensive. All five of these engines were imported by Beaver Creek Models (no longer in business). I worked closely with Beaver Creek Models on the release of these five 2-6-0s to ensure their accuracy. The piston value locomotives (No. 25, No. 26, and No. 29) were released in 1988, and the slide valve engines (No. 27 and No. 28) a year later in 1989. All of these models were built by Samhongsa. They are extremely accurate models of the prototypes and run quiet and smooth right out of the box. The production run for the 25, 26, and 29 release was 255 units total for all three engines, while the 27 and 28 release involved 225 units total. These models originally sold for around $645.00 each.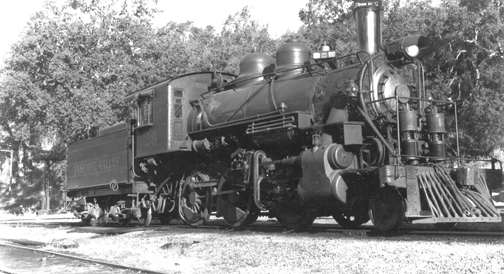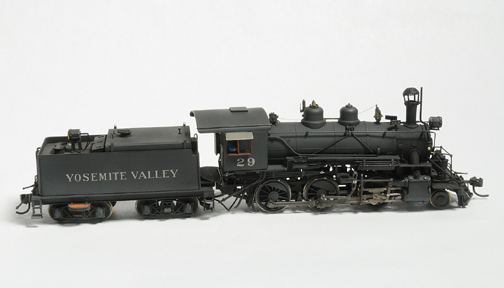 These models were also imported by Beaver Creek Models in their limited-edition Heritage Set collections. The Heritage sets were factory painted and lettered and came in a velvet-lined teak box. Each set was numbered, with the number included on a photo-etched nameplate on the box and on the underside of each engine. A total of 35 of the Heritage sets were released of the 25/26/29 engines and 35 sets of the 27/28 engines. These sets sold for around $1200-1400 for each set of two or three engines respectively. These engines are factory lettered correctly but the importer chose to have the smokeboxes painted silver (ala the Southern Pacific RR) which is incorrect.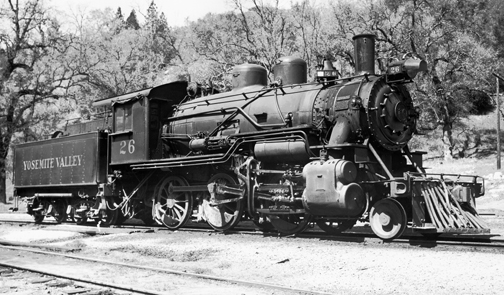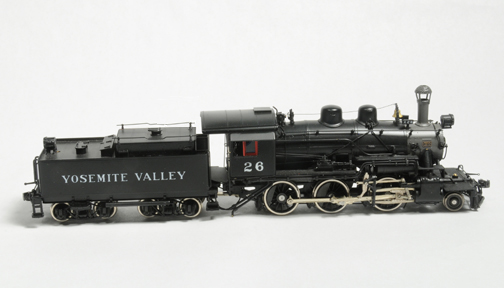 Finding the these unpainted brass models can take awhile. They occasionally show up for sale on eBay. They will most likely be in the range of $700-800 each for the unpainted models. Large brass dealers may occasionally have them also. The boxed sets are rarely found for sale.
Bachmann released a model of an Alco 2-6-0 in 2012. Unfortunately, while a number of different road names are available, all of them are equipped with coal tenders. There are other differences with the YV's only Alco 2-6-0 (No. 26) but one might still work as a stand-in. A Model Railroader review is available online.
Modeling the later 4-4-0s
Modeling the YV 4-4-0s No. 22 or 23 was once much more difficult since these were small but relatively "modern" 4-4-0s which were rarely, if ever, produced as models. This situation changed in 2008 when Bachmann introduced their Maryland and Pennsylvania Railroad (also called the Ma & Pa) Alco 4-4-0s under the Spectrum label. These Ma & Pa 4-4-0s had straight boilers while the YV engines had tapered boilers. There are other differences but most are minor. These engines run very well and are nicely detailed. By making a number of changes and upgrades, the Spectrum engines will work very well as stand-ins for YV No. 22 and 23. Unfortunately, these locomotives are no longer being produced but might be available on the secondary market. I have written up a description of the changes I made to these two Spectrum engines to make them more closely represent the YV engines. The write-up includes recommendations for which Bachmann models most closely represent the YV Alcos.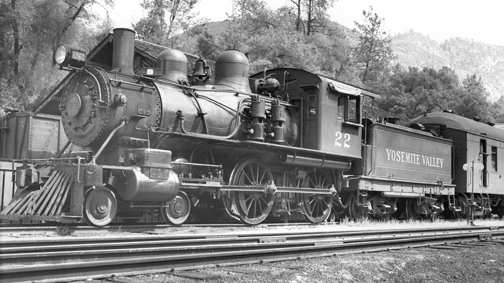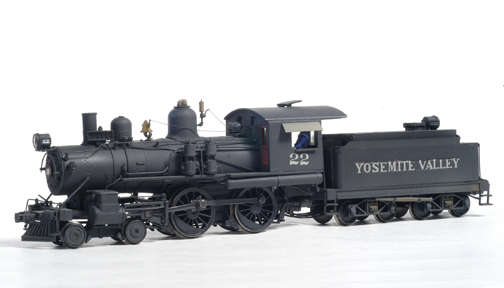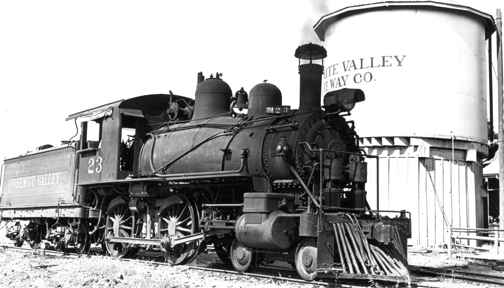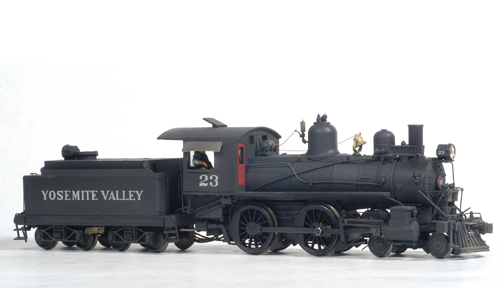 Modeling the Early Locomotives
Modeling the early 4-4-0s No. 20 and 21 would be a kit bashing project. I kitbashed an AHM Reno into the No. 21 back in the 1970s although that model was not a very good performing engine at that time. I think that Bachmann sells basically the same engine. To use this engine as the basis of a model of the No. 21, it would need a new cab, new trucks, conversion of the tender from wood to oil, etc. I'm not sure how well this engine runs.
Another alternative for modeling the No. 21 is to use a brass PFM 4-4-0 Reno or United V&T 4-4-0 model. I have a couple of these brass models to rebuild into YV engines one of these days. Again, these engines become available occasionally on eBay and through brass dealers.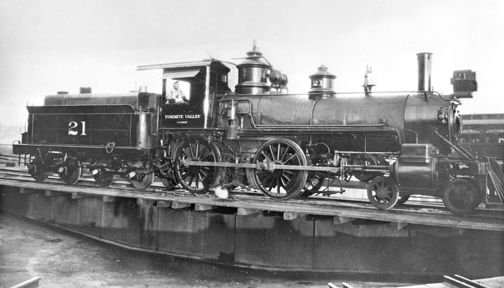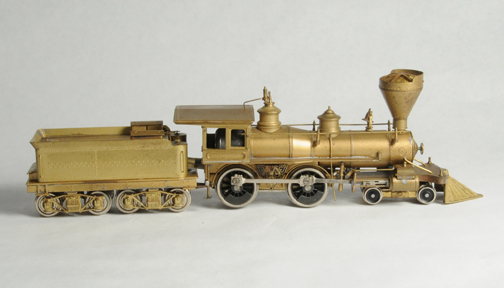 The only 2-8-0 owned by the YV was an ex-Pennsylvania Railroad H1A. A brass model of this engine was imported by Empire-Midland many years ago. Since this engine represents the engine circa 1874 on the PRR, it would need a new cab, tender, smoke stack, and other details to duplicate the engine on the YV.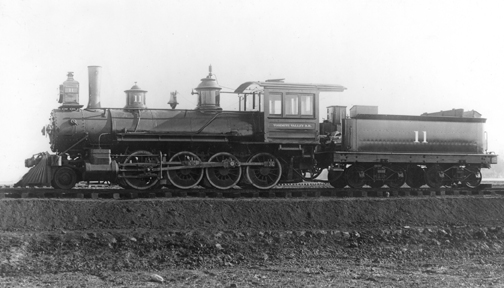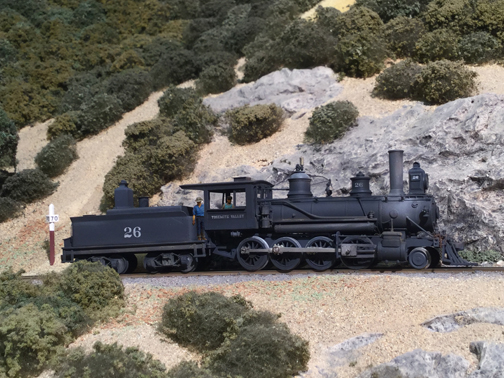 Passenger Cars
The YV purchased an ex-T&NO steel 40-foot Railway Post Office (RPO) car in 1938 to replace combination car 105 which was damaged in a fire in 1937. This car was numbered RPO 107.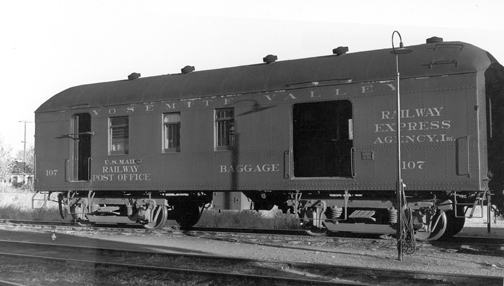 One of the reasons that I originally selected 1939 to model was the availability of a brass model of RPO 107 which was purchased by the YV a year earlier. That model, imported by Ken Kidder, was crude by today's standards but was the only brass model available for modeling the YV at the time. The mail hook should be removed if using this model.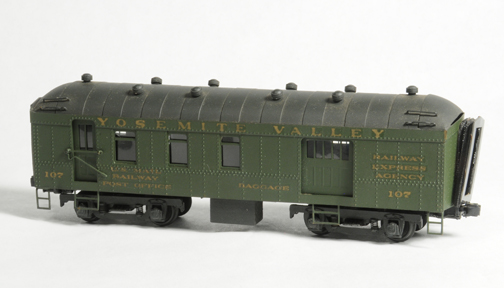 This very early import was eventually jointed by three newer and much better brass imports. Precision Scale Company imported a Harriman "Common Standard" 40-foot RPO/Baggage Class 40-BP-15 #15786-3 which was available factory-painted for the YV but the lettering style (or font) on the letterboard is incorrect. The stack on the roof is also incorrect for a YV model. The car was equipped with a Baker heater when it was in operation on the YV. It was sold to the Virginia and Truckee Railroad after the YV was abandoned. The V&T removed the original Baker heater and replaced it with a heater in the corner of the postal compartment.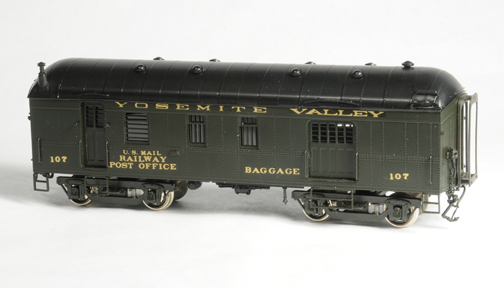 The Original Whistle Stop also imported a 40-foot Steel Harriman RPO 1911 Version with Baggage Doors which I feel is a better model than the Precision one although it is not factory painted or lettered. It also has the incorrect stack on the roof. I painted this model and lettered it using decals that I sell through the Store.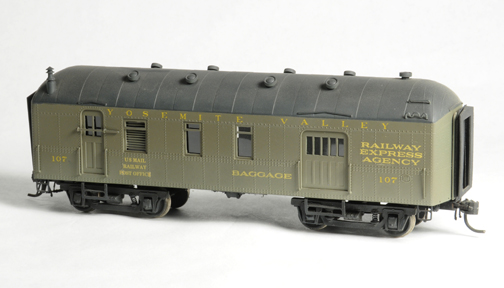 Finally, Overland Models, Inc. imported a 40-foot Harriman RPO, listed as correct for the SP/TNO and Virginia and Truckee. I rate this as the best model of those available since the underbody details are the most complete. It was not available factory painted. I removed the V&T stack and added vertical bars on the postal section windows along with a casting representing the roof-mounted Baker heater water tank and heater stack (far side of the model). I painted the wood window frames brown as per the prototype.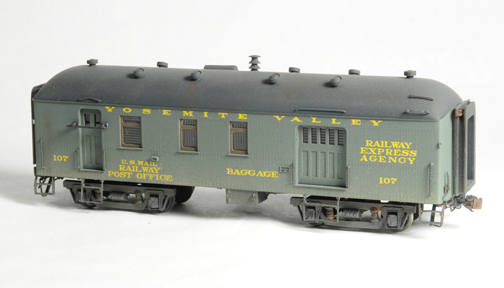 These brass RPO models are in HO scale. Southern Car & Foundry sells an excellent O scale resin kit for this car (kit 101) which includes a one-piece body casting, laser-cut window inserts, underbody detail, and the roof-mounted Baker Heater expansion tank. Here is their kit lettered with decals from the Store: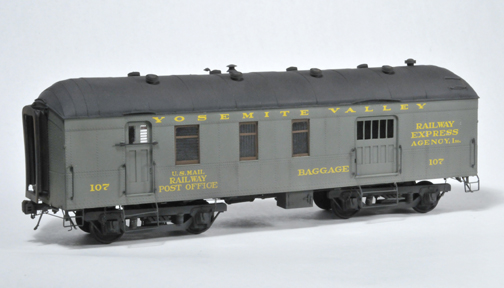 YV 107 still exists today on the Pacific Locomotive Association's Niles Canyon Railway. This web page has a number of photos of the actual car plus photos of the underbody of the Southern Car & Foundry model.
The YV ordered a matched set of passenger cars in 1907 from Hicks Locomotive and Car Works which included a combination car, a coach, and an observation car. They were wood cars and featured wide, arched windows with stained glass inserts.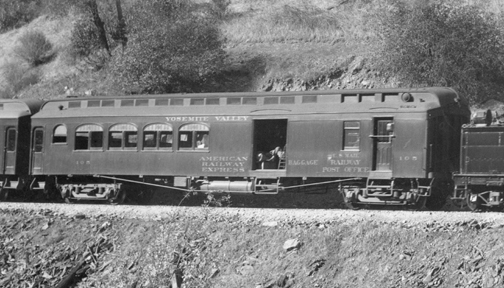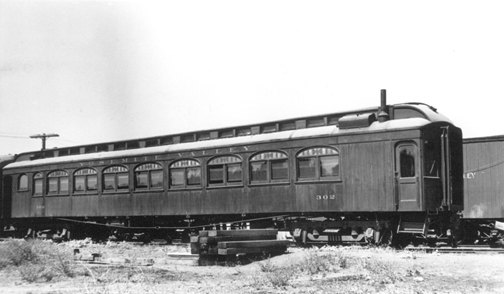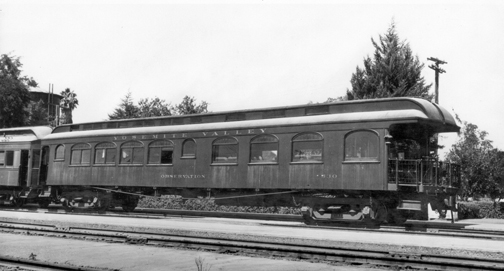 Beaver Creek Models imported a three-car set of passenger cars for these YV cars in 1989. These were not available factory-painted. These are accurate models of the prototypes but are not very good operationally. They are very heavy due to their brass construction (including brass interiors) and have poor-running trucks which could be replaced. They occasionally show up at brass dealers and on eBay. I do not know the original cost of these models but a set sold on eBay in August 2006 for $833.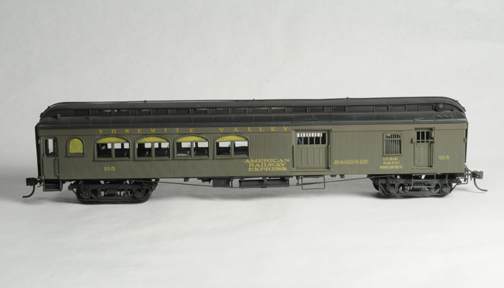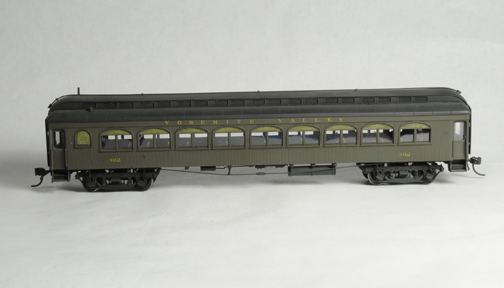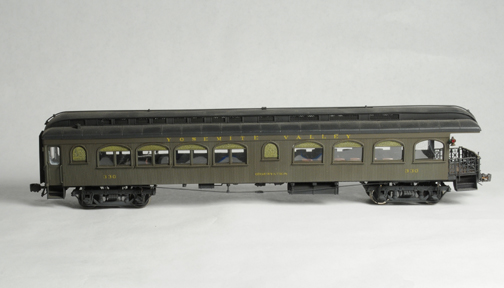 Tomar has YV drumheads (#985) in N, HO, S, and O scales based on artwork that I developed using prototype photos. This same artwork was used to produce a full-size drumhead for YV Observation 330 which is now being restored.
The typical YV summer passenger train consisted of an RPO car, Pullmans, an SP diner, and a YV observation car. Nice Pullmans models were once available from Walthers and Branchline. The 10-1-2 Pullman Sleeper was typical of the Pullmans which ran over the YV. Walthers sold a RTR model of this sleeper but it is listed as sold out. Branchline Trains also had a very nice kit for these cars under their Blueprint Series but they are no longer being produced.
Note that the Pullmans were all owned by Pullman during the life of the Yosemite Valley Railroad although certain cars were assigned to different railroads. You should therefore select models which are lettered with Pullman on the letterboard rather than an individual railroad such as the Southern Pacific.
Cabooses
Plans for YV caboose 15 are included in Hank Johnston's book on the YV, Railroads of Yosemite Valley. It is therefore not unexpected that brass models of this caboose have been imported twice.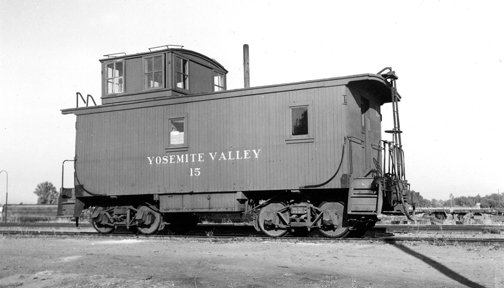 West Side Models released a brass model of Caboose No. 15 in November 1973. It was manufactured by Micro Cast of Japan and originally sold for $29.95. A total of 500 were imported. It is reasonably accurate except that toolbox on the right side of the car is not tall enough and there shouldn't be a cap on the smoke jack.(The importer noted the cap on the prototype on display in El Portal and assumed that it was present during operations on the YV.)
(The queen posts on the prototype caboose are not all the same height. Instead, the two in line with the tool box are taller than the two on the other side of the car. Both imports are incorrect due to this detail since both have all of the queen posts the same length.)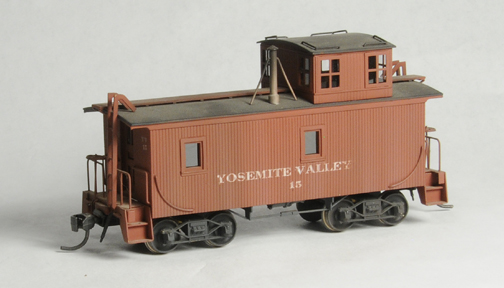 Beaver Creek Model Company released their version of Caboose No. 15 in 1986. It was built by Samhongsa of Korea. It is a better-quality model than the Westside import, typical of the growing expectations for brass imports. It is accurate except that the queenposts on the left side are too tall. This model also has a cap on the smokejack which I removed (the National Park Service added the cap when they put the caboose on display in El Portal). A total of 300 of these models were imported. I don't know the original cost of this model.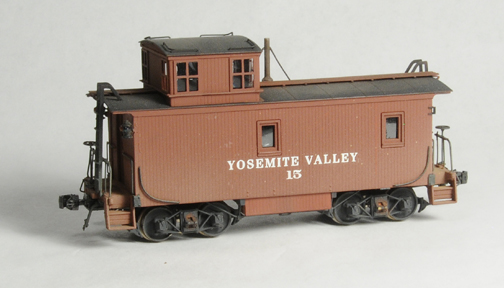 Both of these models regularly appear on eBay and on brass dealer sites.
I have decals available in the Store to letter all of these cabooses.
In O scale, Mullet River Model Works had a 1/4" scale wood laser-cut kit for caboose No. 15. Neither trucks nor ladders are included with the kit. This was a very nicely done kit using laser-cut wood. I added trucks and markers from The Back Shop and ladders from Trout Creek Engineering although they are not completely accurate. This kit might still be found in the online auction sites.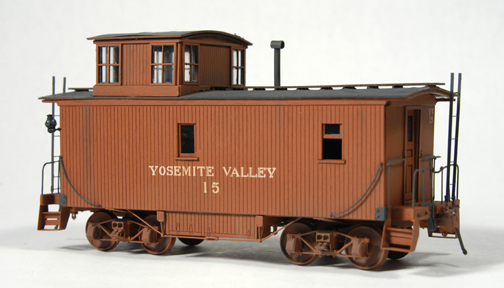 Note that, although Caboose No. 16 appears similar to the No. 15, it was actually a slightly different design and shorter. However, one could use a No. 15 as a stand-in for the No. 16 if desired. Here is my scratchbuilt versions of YV caboose 16: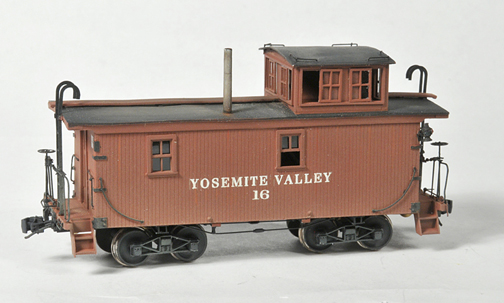 Caboose 17 measured 42-foot over the couplers and originally had side doors which were removed and closed over in 1941.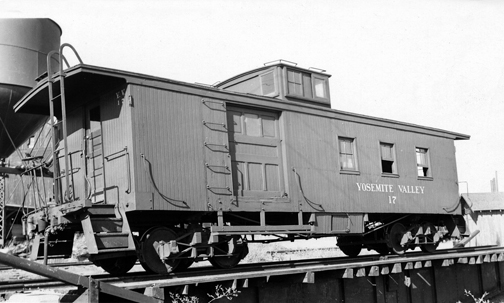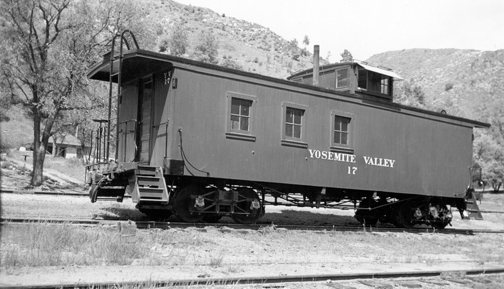 Since I model 1939, I included these side doors in my scratchbuilt model of caboose 17.The unusual trucks on Caboose 17 were typical of those used on the New York Central and Hudson River Railroad, Wabash Railroad, Grand Truck Railroad, and Canadian Pacific Railroad. BC Models (no longer in business) once sold these trucks under the old Red Ball line as part number T-13. Similar trucks for both HO and Proto87 are now available from Shapeways.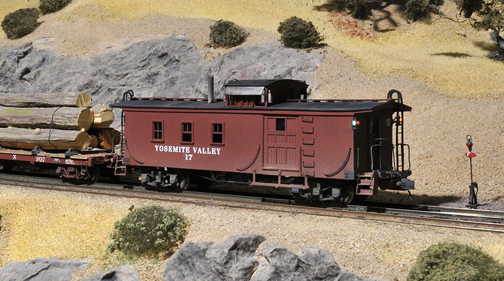 YV caboose No. 18, which only operated between 1920 and 1938, was an ex-Southern Pacific RR caboose rebuilt by the SP from a 28-foot box car.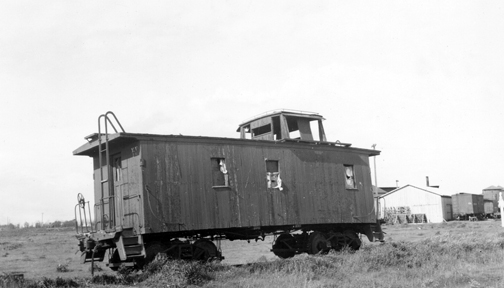 Walthers once had a plastic version of a SP C-30-1 caboose which can be a starting point for a kitbash of the car but the cupola needed to be replaced to get the right proportions. I used this kit to build a model of YV 18 even though it was no longer in service in 1939. When it was completed, it went directly to a display cabinet. This Walters kit is no longer available.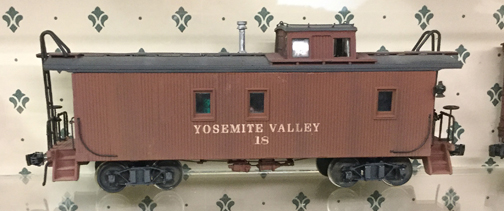 Caboose 19 was built from box car 601 in 1925. I used my plans for that box car series to make plans for this caboose. The stain below the windows shows up in several prototype photos of the car.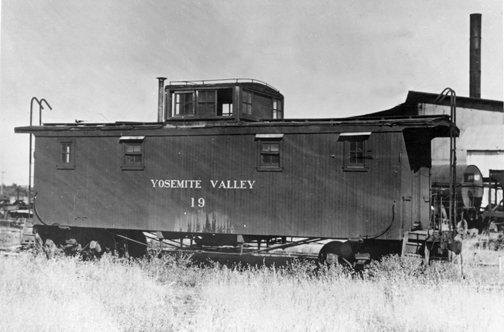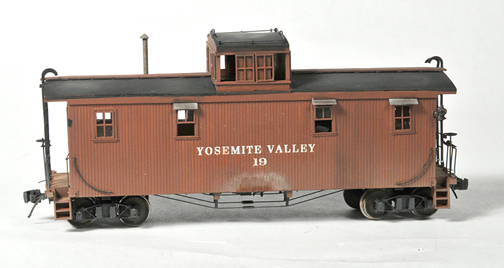 Paint - The YV cabooses, including the underbody and trucks, were painted red. (I used Floquil Caboose in the past although it is no longer available.) Some of the metal hardware was painted black on some of the cabooses at different times; a list of dates of when the hardware on each car was black is included with the caboose decals I sell.
Freight Cars
Hopper Cars
The YV had 51 ex-Great Northern hopper cars (purchased used in 1924) which were initially used during construction of the Exchequer Dam. They were later used to haul crushed limestone. They were called "rock cars" on the YV.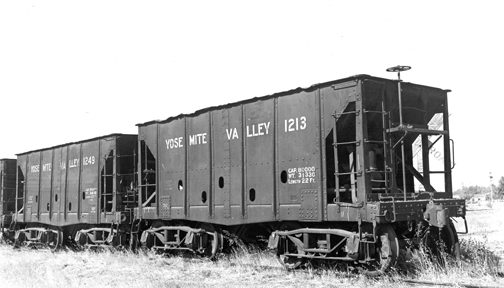 Westerfield Models has resin kits (Kit 3452) to model these cars. This is not an easy kit to assemble but the result is a very accurate model of the prototype. It includes YV decals. The kits don't include trucks.
Trucks - 5'-6" Pressed Steel Company arch bar trucks are available from Wiseman Model Services as Kit OT5301 (assembly required).
Paint - These cars were painted black including the trucks.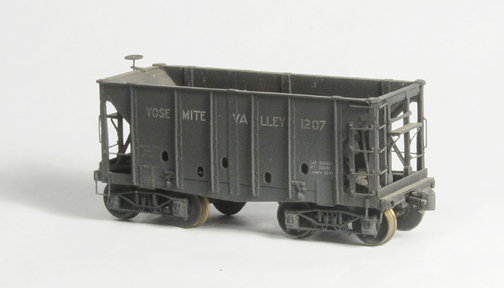 An easier but more expensive alternate for the rock cars are the brass hopper cars imported by Beaver Creek Models. These are also accurate models of the prototype YV cars. I suspect that around 100 of the three-car sets were imported. However, I rarely see them for sale. I don't know the original cost of these imported models.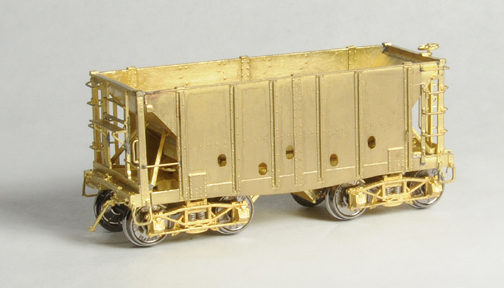 Log Cars
The YV purchased 175 log cars from Seattle Car and Foundry in five orders between 1912 and 1925.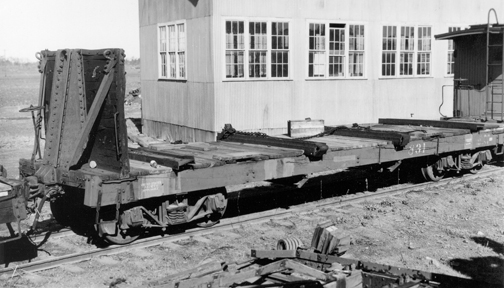 Rio Grande Models has kits (Kit 3050) available for modeling the YV's 175 log cars. These kits, less trucks but including decals, are currently available and are relatively easy to construct.
Trucks - These cars were outfitted with 5'-6" arch bar trucks which are available from Tahoe Models Works in two versions - TMW 103 with RP-25 wheelsets or TMW 203 with semi-scale wheelsets. TMW doesn't have a website but Westerfield carries their entire line. If the trucks you want are out of stock at TMW's order form is available at Jim Hayes's Sunshine Kits website as a service to modelers. Download the TMW order form to order their trucks and mail the order directly to Tahoe Model Works with payment.
Paint - The side sills, end beams, and metal hardware (except log bunks) on the log cars were painted boxcar red. The trucks were painted black while the decks and the wood on the bulkheads were left unpainted.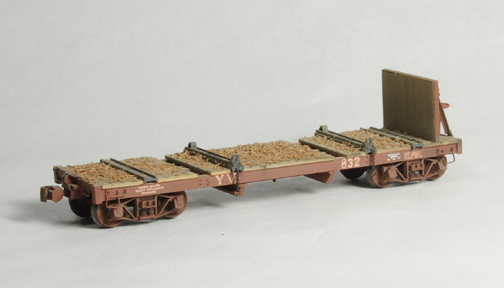 The end bulk heads on the original order of 60 cars ordered from Seattle Car and Foundry Company in 1912 provided to be too short. There were modified with extensions which was better but still unsatisfactory. By 1923, the bulk heads on all of these cars completely rebuilt. Subsequent orders from SCFC had redesigned bulk heads with a minor change for that last order of 50 cars in 1925.
The bulk heads in the Rio Grande kit are fine but do not provide the variations shown in YV fleet of these cars. I therefore drew up 3D plans for all fire variations of bulkheads and had them printed by Shapeways.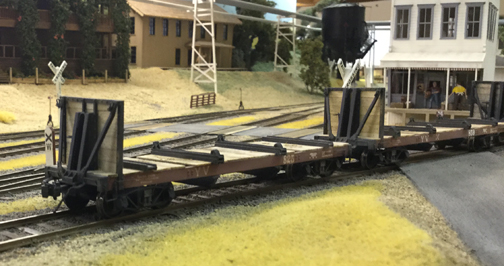 An N scale model of the YV log cars is also available. The car was drawn in 3D by James Norris and "printed" using rapid prototyping technology. It is available through Shapeways. He also sells them in packs of two-cars, three-cars, and a five-cars. You save money on shipping costs with the multi-car packages.
Stock Cars
In 1907, the YV purchased three 36-foot-long stock cars second-hand in 1907. They remained in service until abandonment in 1945.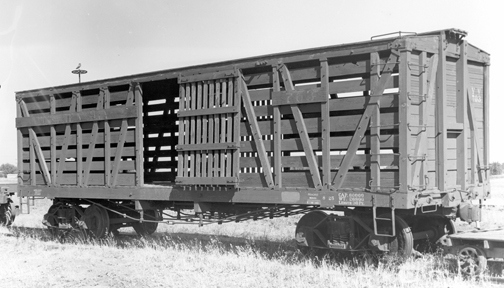 Rio Grande Models has a kit (Kit 3112) available for modeling the three YV stock cars. These kits, less trucks but including decals, are currently available and are relatively easy to construct.
Trucks - These cars need 5-foot arch bar trucks which are available from Tahoe Models Works in two versions - TMW 111 with RP-25 wheelsets or TMW 211 with semi-scale wheelsets. TMW doesn't have a website but Westerfield carries their entire line. If the trucks you want are out of stock at TMW's order form is available at Jim Hayes's Sunshine Kits website as a service to modelers. Download the TMW order form to order their trucks and mail the order directly to Tahoe Model Works with payment.
Note that 5-foot wheelbase arch bar trucks were also used under all of the YV flat cars and most of the YV box cars and maintenance-of-way equipment.
Paint - The YV stock cars, including the roof and underbody, were painted box car red with black trucks.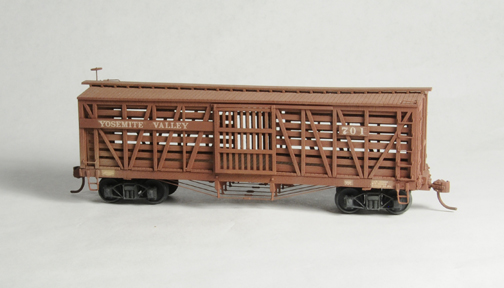 Box Cars
Along with a number of truss-rod equipped box cars, the YV had four steel underframe, ex-Harriman box cars, numbered 610-613. They were purchased in 1938 and 1939. Box cars 610-612 were Harriman B-50-1/2/4 box cars and Westerfield Models makes a resin kit for this car as Kit No. 1751; scroll down this page and click on the link for 1751. (No. 613 was a B-50-5 and is not yet available from Westerfield although they are working on releasing that kit too.) The kits do not include trucks or YV decals.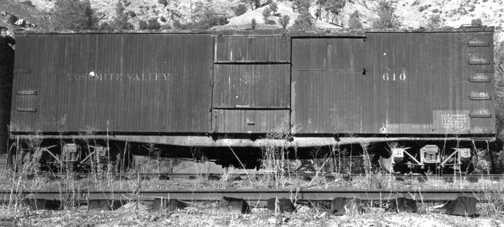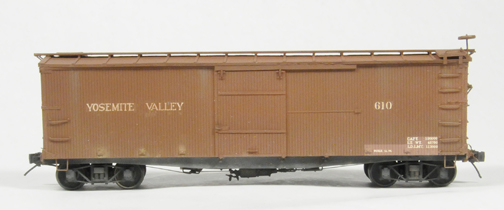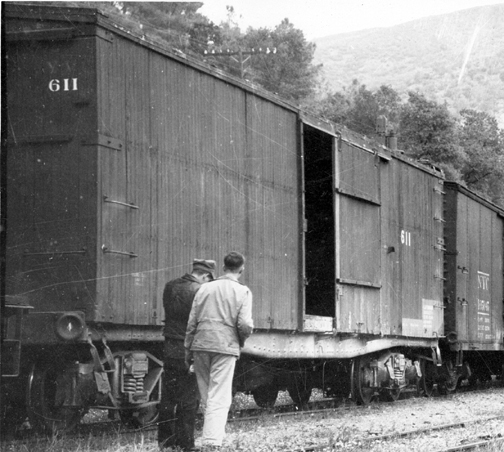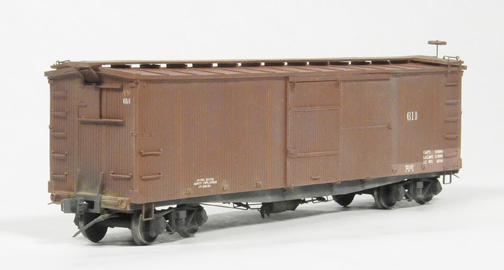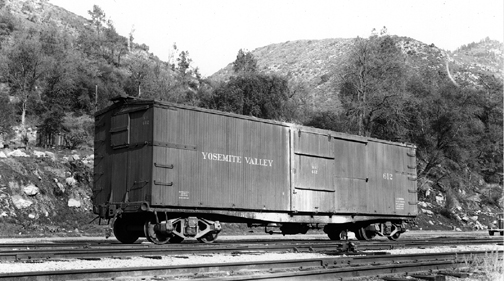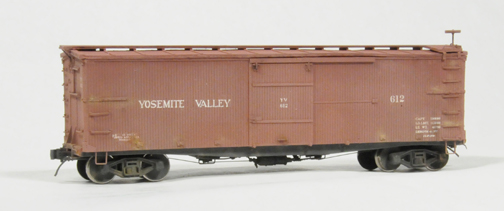 These Westerfield models were modified to more closely match the YV box cars by the addition of end doors, knee braces, photo-etched Carmer cut levers, air hoses, the horizontal line of nuts and washers along the bottom of the sides of the cars, (especially visible in the prototype photo of 612), and removal of the jacking pads on the side sills. A .pdf file named Building the Harriman Cars provides a description of these additions and changes, along with painting suggestions and some tips for assembly of these resin kits.
Trucks - Box cars 610 and 611 had 5'-6" arch bar trucks while 612 had Bettendorf T-section trucks and 613 had Andrews trucks. The 5'-6" arc bar trucks and Andrews trucks are available from Tahoe Models Works:
Arch bar trucks - TMW 111 with RP-25 wheelsets or TMW 211 with semi-scale wheelsets
Andrews trucks - TMW 112 with RP-25 wheelsets or TMW 212 with semi-scale wheelsets
TMW doesn't have a website but Westerfield carries their entire line. If the trucks you want are out of stock at TMW's order form is available at Jim Hayes's Sunshine Kits website as a service to modelers. Download the TMW order form to order their trucks and mail the order directly to Tahoe Model Works with payment.
Bettendorf T-section trucks for box car 612 are available from Kadee Quality Products. Bettendorf T-section trucks are also sold by Kadee as parts 572 or 1572.
Paint - All of the YV box cars were, to best of my knowledge, painted box car red, including the roof, with black trucks. As shown in the model photos, the ex-Harriman box cars had black underframes and steel side sills.
Ballast Cars
The YV had six ballast cars which were purchased in 1909. They were Hart Convertible ballast cars built by Rodgers Ballast Car Company. There are no known photographs of a complete car on the YV, only three photos which show a portion of one of the cars. I was able to interest Protowest Models to make resin kits for these cars from my drawings. These were limited production kits and have sold out although kits might be available on the secondary market. Decals for these cars (and the YV flat cars on the same sheet) are available in the Store.
![Ballast car](pwballast.jpg "These cars look fairly complex but the kit is easy to build and includes trucks. They were called "convertible" cars since they could discharge a load through the floor or through side doors.")
Maintenance of Way Equipment
The YV had a number of pieces of equipment in maintenance-of-way service over the years. Many were older box cars and flat cars converted for specialized service such as tool cars and bunk cars. Other cars were purchased especially for M of W service, including side dump 010.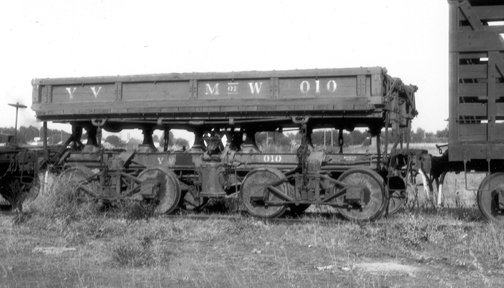 Model Engineering Works had a kit for a side dump car back in the 1970s which is somewhat appropriate to model 010. I modified my kit by changing the kit's metal sides for built-up wood sides and replacing the air pistons with smaller ones.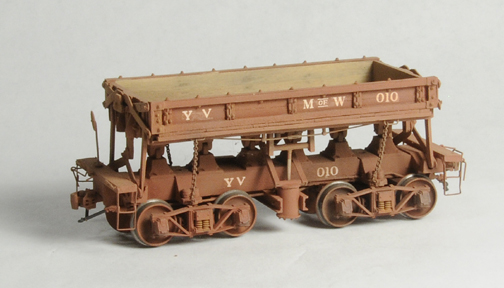 Back in 2014 when I built this website, I added this to the caption above: "Sometime in the future, I plan to have available a rapid prototyping body to more accurately model this side dump."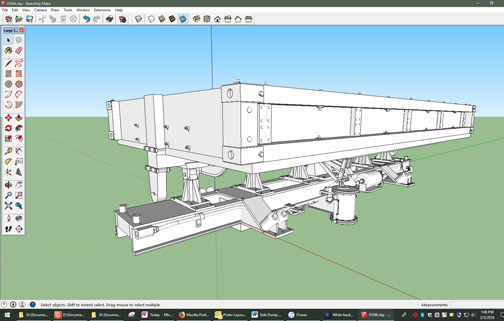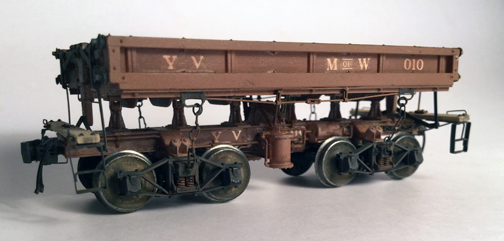 Structures
While there are no other kits for YV structures, Grandt Line produces windows which duplicate those used on the stations at Snelling, Merced Falls, Barrett, and Bagby. Note that Grandt Line has been purchased by San Juan Models. Parts 5208, 5209, and 5210 duplicate most of the windows on these stations. I sell a CD with plans in my Store for all of the stations and many other buildings along the YV.
Books, Maps, and More Information
There are two main books on the Yosemite Valley Railroad. My own book, Trains to Yosemite, is the most accurate and complete but sold out in 2011. It includes maps of the general route together with detailed maps of each of the yards on the railroad and over 400 photos of the railroad. There are slightly used copies at Amazon and many book stores.
Hank Johnston's Railroads of Yosemite is available from Amazon in both hardcover and softcover editions. Hank's book was written in 1966 and has some photos not in my own book. It also covers the logging railroads.
Before publishing Railroads of Yosemite Valley, Hank Johnston wrote a short book entitled Short Line to Paradise. The original horizontal version of this book includes a few photos not in either of the above-mentioned books. The book occasionally shows up on eBay. It was later reformatted into an 8-1/2x11 book and, in the process, many of the more interesting photos were removed. It is still available from Amazon.
Jim Law's Memories of El Portal will also provide information for modelers. It is available Amazon
Hank Johnston's Whistles Blow No More, although it covers a number of Sierra lumber companies, has some additional photos of the Yosemite logging operations. It is also available from Amazon.
Catenary Video Productions, established by Don Olsen in 1986, has released numerous videos and DVDs steam-era railroading and logging operations over the years. One of these DVDs, Sierra Shortlines, Vol. 2 includes some color footage taken by Louis Stein during the two YV fan trips plus some footage of the logging operations of Yosemite Lumber Company. Two more recent releases West Coast Railroad Logging include additional footage of the Yosemite Lumber Company operations.
In 1996, an interesting (but strange in some ways) B/W art movie was released entitled Color of a Brisk and Leaping Day. The film won an award for cinematography at Sundance. It basically tells the story of what might have happened if the YV had been sold to 18-year-old John McFadden rather than being scrapped, although the writer/director took a lot of artistic license with the premise. A review of the movie is on the web while the movie is available as a DVD or can be rented from Amazon.
Groups io Chat List
If you are modeling the Yosemite Valley Railroad or just interested in its history, you might want to join our YV Groups io chat list:

Click on the above graphic and then Sign Up for this chat list. There are about 200 of us on this list and it is a good place to ask questions, share information, etc. We occasionally send new photos around for comment plus share layout plans, modeling projects, etc. We also have an annual YV Weekend each year (the date of the weekend varies depending on where we go). The activities vary from year to year. In the past, we have typically had field trips on the Saturday (or Saturday/Sunday) of the weekend to explore portions of the YV route and the logging inclines. We have also had work weekends to help on the reconstruction of YV Observation Car 330 and caboose 15. The Symposium date is announced only on the Groups list.